1 Day Permanent Makeup Eyeliner Enhancement Training
by Aparnaz Lash & Brow bar
DC's Permanent Tattoo Eyeliner Training Workshop & Certification (30% OFF)
View Up Coming Classes & Register
About this event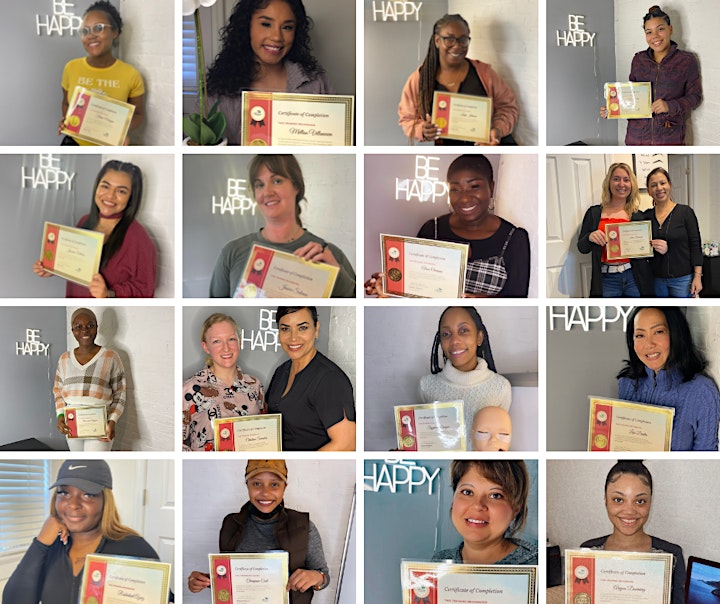 What You'll Learn:
Tattooed Eyeliner is a form of semi-permanent makeup that places pigment along the top and bottom eyelashes to define the eyes and gives an illusion of thicker, darker and fuller lashes.
Tattooed Eyeliner can last anywhere from 1-3 years with regular touch-ups.
With our exclusive training, you will learn how to give your clients the best looking permanent eyeliner, ever! We fill in the area between the lashes to create the illusion of thicker, darker, and completely full lashes without looking lines or like obvious permanent makeup.
All material will be provide in the class.
No previous experience necessary, we will give you all of the training you need to become successful for this service!
Training with an ONGOING, UNLIMITED online support!
Training Location: 1625 Wisconsin Ave NW, Washington, DC 20016
Course Price: $1599 ( 40% OFF USUAL PRICE $2300)
Deposit Required: $100 | Remaining: $1500
Classroom Size : 3 Students Per Training (Max)
Duration: 1-Day Training
Classroom Hours: 11am – 5PM (Light snacks and refreshments provided)
KITS: All Required Kits Comes With This Training Package
Instructor: Miss Shiraz is Master Permanent & Microblading Artist/Instructor operating at Tysons, Arlington, DC . She received her initial training in Germany about 25 years ago in a Prestigious Reza's Academy. Along with her medical education, Shiraz is also a licensed esthetician. She moved to United States in 2005 and has continued with career since then.
What's Included in the Course?
PROFESSIONAL KIT & Manual, practice techniques books, needles, practice skin etc.
POST CLASS SUPPORT: Student can come back to improve skills in future group classes. We offer lifetime support for all our students. The ones that are outstanding with their work will be have the opportunity to be our apprentices.
Our Work & Our Website
www.aparnazeyebrows.com | Instagram: @aparnazeyebrows
Any Questions Or Queries ?
Please Do Not Hesitate To Call Or Text Sam at (443)-499-3969
IF YOU MISS THIS TRAINING BY ACCIDENT THEN WE WILL PUT YOU ON THE NEXT ONE.
©2019 SRP Enterprise, LLC. The material provided in this Eventbrite listing is protected by U.S. copyright laws. Reproduction and distribution of the Eventbrite or any materials within it without written permission of the owner is strictly prohibited and may result in legal