DMV 1-Day Advanced Nano Brow Hairstrokes Training + Certification Workshop
by Aparnaz Lash & Brow bar
1-Day Advanced Nano Brow Hairstrokes Training + Certification Workshop (25% OFF ))
View Up Coming Classes & Register
About this event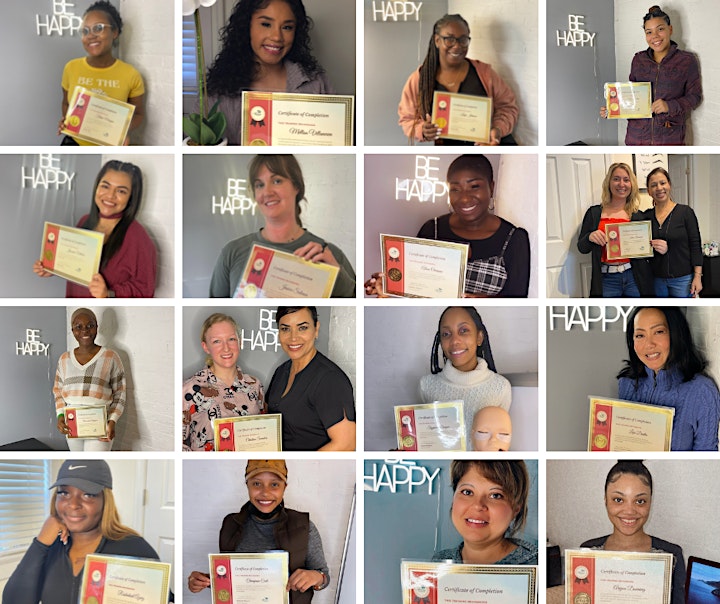 Start earning more by offering NANO BROW STROKES to your list of shading services!
Grow your skills with small group training in the Art of Natural Hair-Like Brow Strokes with NANO BROWS
Subject: 1-Day Advanced Nano Brow Hairstrokes Training + Certification Workshop
Master the basics of Nano Brows, with our Aparnaz Lash & Brow Boutique 1-Day Advanced Nano Brow Hairstrokes Training Course, this course will take place from 11am to 5pm.
By mastering this machine technique, you'll learn how to create natural hair-like strokes that have more retention than traditional manual strokes with microblading.
Course Price: $1599(40% OFF USUAL PRICE $2299)
Deposit Required: $100 | Remaining: $1499
Classroom Limit: 2 Students Per Training (Max)
Training Location: 1625 Wisconsin Ave NW, Washington, DC 20007 (Georgetown Area)
Classroom Hours: 11am – 5pm (Lunch & and refreshments provided)
Live Model: Students will observe on a live model
KITS: All Required Kits Comes With This Training Package
Certificate: Course Completion Certificate Provided For Ombre Brows
Instructor: Miss Shiraz is Master Permanent & Microblading Artist/Instructor operating at Tysons, Arlington, DC . She received her initial training in Germany about 25 years ago in a Prestigious Reza's Academy. Along with her medical education, Shiraz is also a licensed esthetician. She moved to United States in 2005 and has continued with career since then.
Our Work & Our Website
www.aparnazeyebrows.com
Instagram: @aparnazeyebrows
Any Questions Or Queries ?
Please Do Not Hesitate To Call Or Text (443)-499-3969
Some Dates Mentioned Could Have Been Sold Out.
Please Confirm With Us Via Txt Msg At (443)-499-3969
You will not lose your deposit. If you miss the training we will put you on a different event.
Course Description:
In our DC Aparnaz Lash & Brow Training Studio 1-Day Nano Brow Hairstrokes Training you'll learn the advanced application of the popular and profitable procedure known as Nano Brows. The course is designed in easy-to-follow stages. Covering all aspects, such as hair stroke patterns, color theory, and lastly, outlining the perfect shape. Mastering this advanced technique requires the guidance of a highly experienced master instructor and a dynamic training style guaranteed in our course and will not be found elsewhere outside of the training courses.
What are Nano Brow Hairstrokes?
The Nano Brow hair stokes procedure is created with one single needle and a permanent makeup device to create hair-like strokes and comes with the benefits of offering a more natural and crisp result with more precision and accuracy. Nano Hair Strokes are like microblading but with much less trauma to the skin and less risks of the pigment being implanted too deep.
How much can I earn doing Nano Brow Hairstrokes?
Permanent Makeup artists charge anywhere from $375 to $475 per procedure for Nano Brows. Factors such as your experience and location will determine how much you can start charging your clients. Even if you start at just $375 per hour, having 3 client a week, you'll earn you $1,125 a week!
Class Overview:
A deposit of $200 is due via Eventbrite at the time of registration to lock your spot, and the balance will be due the first day before start of class. We limit the classroom environment to a small group of students to ensure that everyone is grasping the concept and getting the attention that they deserve. Students will receive a MicroBladers' Nano Brow Hairstrokes Certificate of Completion. Certificates will be mailed to any student who is accepted after the cutoff date specified.
Any questions, please do not hesitate to call/text Danielle at (702) 200-2820 or hello@microbladers.com or visit us at https://microbladers.com/
Included in the Course:
• Aluminum Makeup Pro Case
• Artist Training Manual
• Professional MicroBladers PMU Pen Device
• Brow Pigments
• Training Manual
• Theory Review
• Types of Clients
• Mapping & Outline
• Types of Tools & Needles
• Ethnicities & Skin Types
• Student Procedure Simulation
• Color Theory (what pigments to choose for different undertones)
• Needle Types & Suggested Uses
• Practical Application and Preparation
• Topical Anesthetics
• Safety and Sanitization
• Client Consultation and Consent Forms
• Aftercare Instructions
• Post Treatment & Complications
• Depth using Synthetic Skin
• Certificate of Completion on Nano Brow Hairstrokes
It is Student's responsibility to investigate all licensing, apprenticeship, insurance and other state and local requirements for the practice of permanent cosmetics in the area in which he or she intends to work.
©2019 AAS LLC. The material provided in this Eventbrite listing is protected by U.S. copyright laws. Reproduction and distribution of the Eventbrite or any materials within it without written permission of the owner is strictly prohibited and may result in legal action.