Hairline Restoration Training Workshop
by Aparnaz Lash & Brow bar
Microscalping / SMP Reclaim Lost Hairline Strand-by-Strand with NANO Machine Hairline Strokes!!!
Book Now
About this event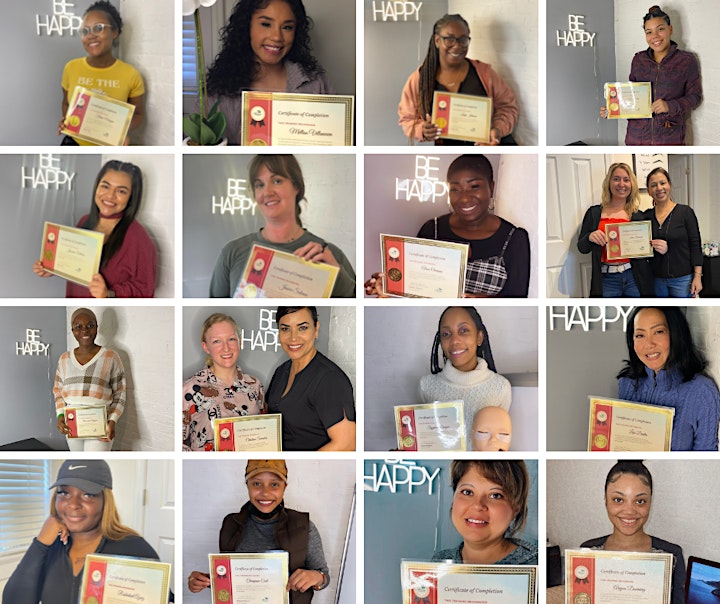 About this event
Learn the most sophisticated solution to thinning hairlines in our DC's Machine Hairline Restoration Training Workshop. Don't miss this rare opportunity to learn the technique from none other than the leading microblading academy in Washington DC
Course Price: $1599 ( 25% OFF VALUED AT $2600)
Deposit Required: $100 | Remaining: $1499
Classroom Limit: 2 Students Per Training
Training Location: 4931 Cordell Ave, Bethesda, MD 20814.
Classroom Hours: 11am – 5pm (Lunch & Refreshment Provided )
KITS: All Required Kits Comes With This Training Package
Instructor: Miss Shiraz is Master Permanent & Microblading Artist/Instructor operating at Tysons, Arlington, DC . She received her initial training in Germany about 25 years ago in a Prestigious Reza's Academy. Along with her medical education, Shiraz is also a licensed esthetician. She moved to United States in 2005 and has continued with career since then.
Our Work & Our Website
www.aparnazeyebrows.com | Instagram: @aparnazeyebrows
www.dcbrowlashclass.com
Any Questions Or Queries ?
Please Do Not Hesitate To Call Or Text Sam at (240)-643-1044
IF YOU MISS THIS TRAINING BY ACCIDENT THEN WE WILL PUT YOU ON THE NEXT ONE.**This is an advanced permanent makeup training workshop. Student must possess a certification in the application of microblading or microshading**
Course Description:
Machine Hairline Restoration Training Workshop, you will learn a new technique that will bring you an incredible additional income potential. Under the supervision of our Master Instructor, you will learn vital skills in the technique with live demonstration and hands-on exercises to back up theory and technological concepts. This comprehensive course has an easy-flow structure to quickly get your hands comfortable with your tools.
Learning how to create realistic hair strokes will allow you to offer a practical solution to clients with receding hairline using similar hair stroking methods. Give your clients a more flattering hairline shape, concealing areas of thinning hair strand by strand, to make them look remarkably younger.
What is Machine Hairline Restoration?
Also known as Microscalping or SMP, the technique is an affordable alternative to hair transplant and over-the-counter products. Using machine nano needles, it deposits pigment into the scalp's surface layers, creating the 3D effect of realistic hairline strokes, with an end result of fuller hair. As with combo brows, the results look stunningly natural and are immediately visible.
You will be following similar cosmetic tattooing processes like applying pre and post care products to the scalp area throughout the procedure. The healing process and precautions for most permanent makeup treatments will also apply.
How Much Can I Earn Doing Hairline Restoration?
Artist certified in hairline can charge anywhere from $200 to $250 per hour depending on desired result. Most clients will need a minimum of 2-3 sessions to reach optimal results. Touch ups are recommended every 3 to 6 months. Factors such as your experience and location will determine how much you can start charging your clients. Your client's initial session will range from 2.5 hours to 3 hours. Touch ups will take takes 60 to 80 mins at the most. Results generally last anywhere from 6 to 8 weeks and in some cases 3 months or more. Much of it depends on the skin type and number of sessions. We highly recommend offering clients a package of (3) sessions.
Even if you start at just $200 per session, having one client appointment a day for 3 days will earn you an extra $600 or more a week! In our experience, we tend to see a first-time client refer 2-3 new clients after getting a BB Glow treatment. The barrier to entry for this service is low. Clients love it!
Class Overview:
Deposit of $200 is due at the time of registration to lock your spot, and $1,595 will be due on the first day of class. Please pay your deposit no later than 72 hours prior to your training course day. This will be a small class (max 5 students) to ensure that everyone is grasping the concept and getting the attention that they deserve. Students will be required to supply their own model for live procedure training. If you would like us to help you secure a model for the class you signed up for, please email us the request once you signed up for the course. A fee of $100+ will be required per model.
Any questions, please do not hesitate to call/text Rav at (443) 499-3969 or email us at aparnazeyebrow@outlook.com
Professional Hairline Starter Kit w/CE Certified PMU Machine
Hairline Training Manual
Hairline Shape + Patterns
Color Theory
Needles + Techniques
Application and Preparation
Hairline Microblading by Step Procedure
Safety and Sanitization
Client Consultation and Consent Forms
Aftercare Instructions
Student Assisted Live Model Demonstration
Hands-on Training
MicroBladers' Hairline PMU Restoration Certificate of Completion
It is Student's responsibility to investigate all licensing, insurance and other state and local requirements for the practice of permanent makeup in the area in which he or she intends to work. *Students are required to supply their own model for practical application*. Current Blood Borne Pathogen (BBP) Certificate required to participate in training with live models.
$100 ticket purchase is deposit only and required to lock in your spot. Classrooms are limited to (3) students to ensure a proper training environment. Training and materials, pigments, needles, professional permanent makeup machine included in starter kit. Total class cost $1595. Remaining balance required on first day before class starts. Former student discount of $100 will be applied at the time of paying any reminding balance. Please visit dcbrowlashclass.com for additional information on this training course and many others.
©2019 SRP Enterprise LLC. The material provided in this Eventbrite listing is protected by U.S. copyright laws. Reproduction and distribution of the Eventbrite or any materials within it without written permission of the owner is strictly prohibited and may result in legal action.